James Dean
"The life you save may be your own" - J. Dean
James Byron Dean (February 8, 1931 – September 30, 1955), smoker, 2 packs of Chesterfields a day, was a two-time Oscar-nominated American film actor. Dean's status as a cultural icon is best embodied in the title of his most celebrated film, Rebel Without a Cause. His death at a young age helped guarantee a legendary status. He was the first actor to receive a posthumous Academy Award nomination for Best Actor and remains the only person to have two posthumous acting nominations.
Dean's first television appearance was in a Pepsi Cola television commercial. He quit college to act full time and was cast as John the Beloved Disciple in "Hill Number One", an Easter television special, and three walk-on roles in movies Fixed Bayonets Sailor Beware, and Has Anybody Seen My Gal. His only speaking part was in Sailor Beware, a Paramount comedy starring Dean Martin and Jerry Lewis; Dean played a boxing trainer. While struggling to get jobs in Hollywood, Dean also worked as a parking lot attendant at CBS Studios during which time he met Rogers Brackett a radio director for an advertising agency, who offered Dean professional help and guidance in his chosen career, as well as a place to stay.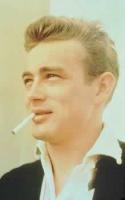 In October 1951, following actor James Whitmore's and his mentor Rogers Brackett's advice, Dean moved to New York City. In New York he worked as a stunt tester for the Beat the Clock game show. He also appeared in episodes of several CBS television series The Web, Studio One, and Lux Video Theater, before gaining admission to the legendary Actor's Studio to study Method acting under Lee Strasberg. Proud of this accomplishment Dean referred to the Studio in a 1952 letter to his family as "The greatest school of the theater. It houses great people like Marlon Brando, Julie Harris Arthur Kennedy, Mildred Dunnock. ... Very few get into it ... It is the best thing that can happen to an actor. I am one of the youngest to belong." His career picked up and he performed in further episodes of such early 1950s television shows as Kraft Television Theater, Robert Montgomery Presents Danger and General Electric Theater. One early role, for the CBS series Omnibus (Glory in the Flower) saw Dean portraying the same type of disaffected youth he would later immortalize in Rebel Without a Cause (this summer, 1953 program was also notable for featuring the song "Crazy Man, Crazy", one of the first dramatic TV programs to feature rock and roll music). Positive reviews for his 1954 theatrical role as "Bachir", a pandering North African houseboy, in an adaptation of André Gide's book The Immoralist led to calls from Hollywood.
His tragic death at only 24 years old in a car accident on the Californian road 466, near Paso Robles, will transform him in the idol of a whole generation identified with the image of a sensitive, nonconformist and rebellious young, representative of the conflict between generations.